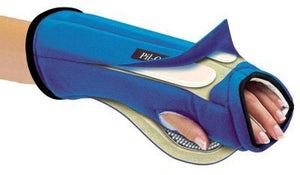 Pil-O-Splint
€6026

€60.26
Tax included.
---
---
Product Description
IMAK Pil-O-Splint Don't let carpal tunnel syndrome (CTS) pain keep you up at night. Use IMAK Pil O Splint for effective nighttime relief. Rest and night splinting remain the #1 doctor-recommended conservative treatment of carpal tunnel syndrome, and the patented Pil O Splint was rated to be the most effective nighttime splint for the treatment of CTS. Product features two dorsal splints, ergoBeads filled resting pad for palm, soft foam and polyflannel covering. Comfortable to wear all night long.
Helps relieve pain, tingling and numbness from Carpal Tunnel Syndrome
Prevents hand from being held in a harmful position while sleeping
Soft cotton lining and cushioning foam allow skin to breathe
Reversible to fit right or left hand - universal sizing
"€12.05 from this purchase will go towards Arthritis Ireland
*Postage and Packaging is €5 per order.