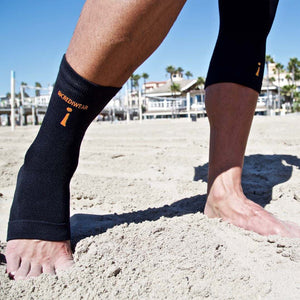 Incrediwear Ankle Sleeve
€3200

€32.00
Tax included.
---
---
The Incrediwear Ankle Sleeve provides comfortable support for the ankle joint.  It accelerates recovery and relieves pain and inflammation for those suffering from acute or chronic joint injuries and conditions.
What is different about the Incrediwear Ankle Sleeve?
The unique Incrediwear technology in the ankle sleeve incorporates semiconductor elements, germanium and carbon, which release negative ions when stimulated by body heat.  These negative ions activate cellular vibrations which increase blood flow and speed.  Increasing blood flow reduces inflammation, relieves pain, increases range of movement and accelerates recovery.  Unlike compression products, Incrediwear products do not need to compress to work.  They cause no discomfort so you can wear them continuously, day and night, and feel the benefits.   
Sizing:
Based on shoe size (Package contains one sleeve).
S/M                 EU 35 – 41/IR 2 - 8
L                      EU 41 – 46/IR 8.5 - 13
Technology & Spec:
Incrediwear's signature fabric blend is embedded with semiconductor elements to provide effortless comfort and exceptional durability
Increases blood flow
Accelerates recovery
Relieves pain
Optimizes natural healing process
Form-fitting fabric without restricting mobility
Breathable and moisture wicking fabric
3D weave design for effortless comfort 24/7
Made with the blend of:
34% Cotton
33% Nylon
28% Polyester
5% Spandex
Wash and Care Instructions
Incrediwear Ankle Sleeves are easy to clean. Wash warm or cold, tumble dry low. Do not bleach, iron or dry clean.
€8.17 from this purchase will go towards Arthritis Ireland
(Postage & Packaging is included)